The Raspberry Pi is a credit card-sized computer, designed with the express intention of introducing a new generation of computer savvy kids to their programming potential. It is compatible with TVs and PCs, offering an open source, easily portable piece of hardware at very low cost (the latest model B board Raspberry Pi is available from RS Components for £21.60).
The Pi is ideal for creating and carrying spreadsheets, writing documents and scripts, and playing games and HD video. But it does so much more than that. Those who love to tinker with boards have already found ways to make use of it. It positively encourages reckless experimentation, as you can imagine with a computer costing twenty quid. Early adopters are coming up with some interesting uses, and there's already plenty of information for Pi rookies out there.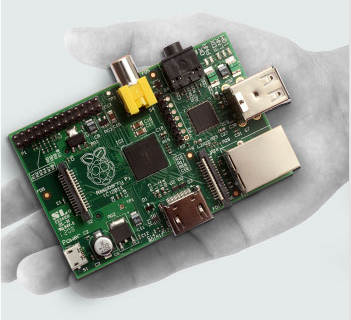 The fantastic Raspberry Pi
Compatible with a DSLR camera, and capable of fitting onto one, you can do all sorts of things on the move, like editing pictures out in the field, before you get back home and realise you don't have the right raw footage for your needs.
Groups such as aerospace engineers have also latched onto the possibility of using the Pi as a surveillance drone. By attaching an old web cam or PlayStation 3 Eye and a WiFi module to it, you can strap it on to a remote control car and get some pretty cool-looking moving shots, which you could even stream directly onto the web. The board features an Arduino component which controls a motor, making the camera moveable.
The board comes with SD card and USB ports, as well as Ethernet wi-fi (on Model B only). It's an exciting time for the programming community, as the Pi offers a supplement to PCs (rather than an alternative). Visit rs-online.com for more information and to purchase your own Raspberry Pi.