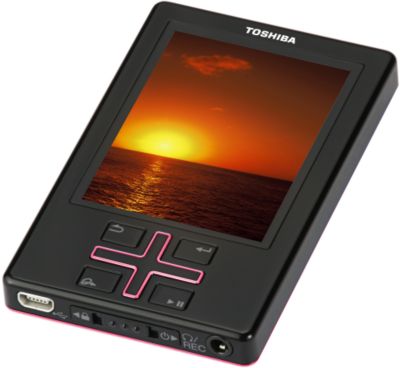 Toshiba T400PK 4GB MP3 Player
Hold out the palm of your hand and accept the freedom to experience your music, your photos, and your video everywhere you go.
Toshibas T400 Gigabeat#174 portable media player delivers 4GB of storage space#32#151#32a 1,000 song or 4,000 photo capacity#32#151#32in a sophisticated brushed black metal alloy body.
The 2.4 LCD screen gives you an ideal viewing area for both navigating your audio and video collection#32#151#32with the aid of the PlusPadtrade#32#151#32and viewing your favorite photos and video.
 Sixteen hours of audio and 5 hours of video playback battery life mean that your new T400 will keep up with your demand for the ultimate in audio and video experience.